Maggie Update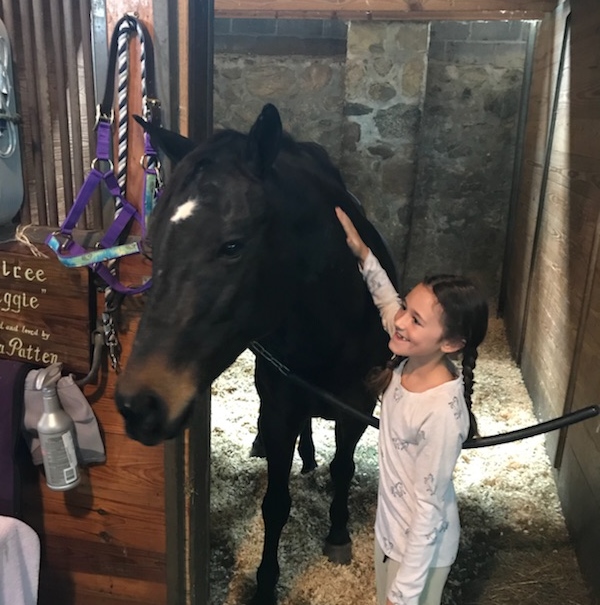 She is LOVED already!!!! Thank you so much!!!! Jen
Pippa Update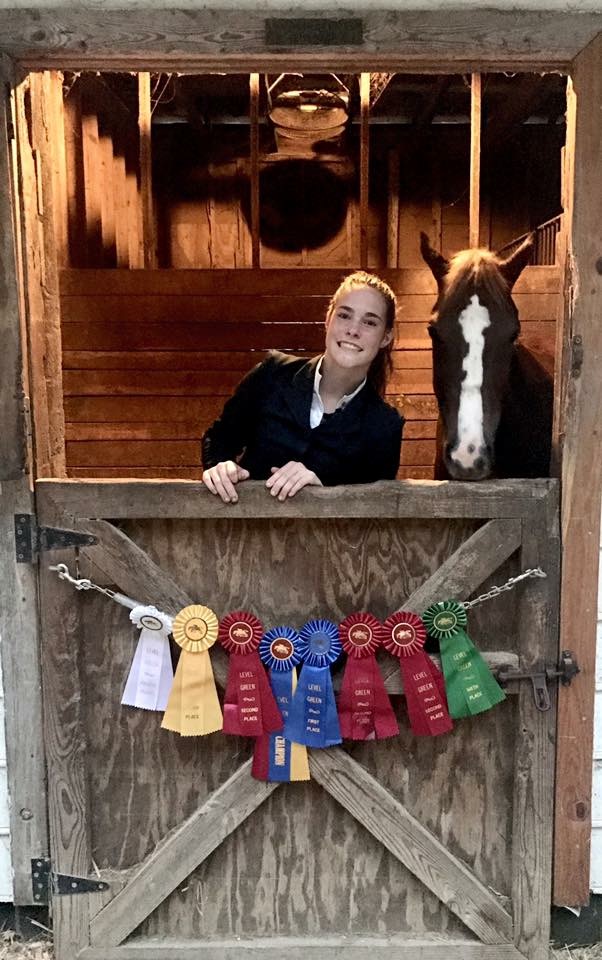 Pippa and Riley are on a role winning champion in green pony and large pony 2 weeks in a row!! It's hard to tell who is having more fun, and they truly are a great team!! Pippa gets clipped this week in preparation for Equitation Finals on the 28th and Lexington for VHSA finals the second week of November. I will send lots of pictures, as she is especially cute clipped!!
Magnum Update
Dear all, Whoever may have considered Magnum and then decided not to choose him a) did not know the diamond in the rough they missed, and b) made me a very happy person. Magnum is a trooper, a gentleman, a sweet-heart, a war horse, gentle, positive, unafraid, daring, considerate, protective, and, all told, one of the best things that has happened to me for a long time. He has developed a healthy amount of trust in me and I, in him. I can ask him to do things I would have hesitated to ask any other horse to do, and he seems very happy to oblige. I do so love that equine star! We are working on softening his mouth - mostly to the left - so my fingers are constantly active and he is relaxing more and more every day. Honestly, I never thought I would find another equine so perfect for my needs and am grateful to you for arranging the blind date. Tomorrow we'll be out hunting saber-toothed tigers. If you look very closely, you can see them lurking behind fallen trees. Best to all and, again, thank you, thank you. Marilene
Josie Update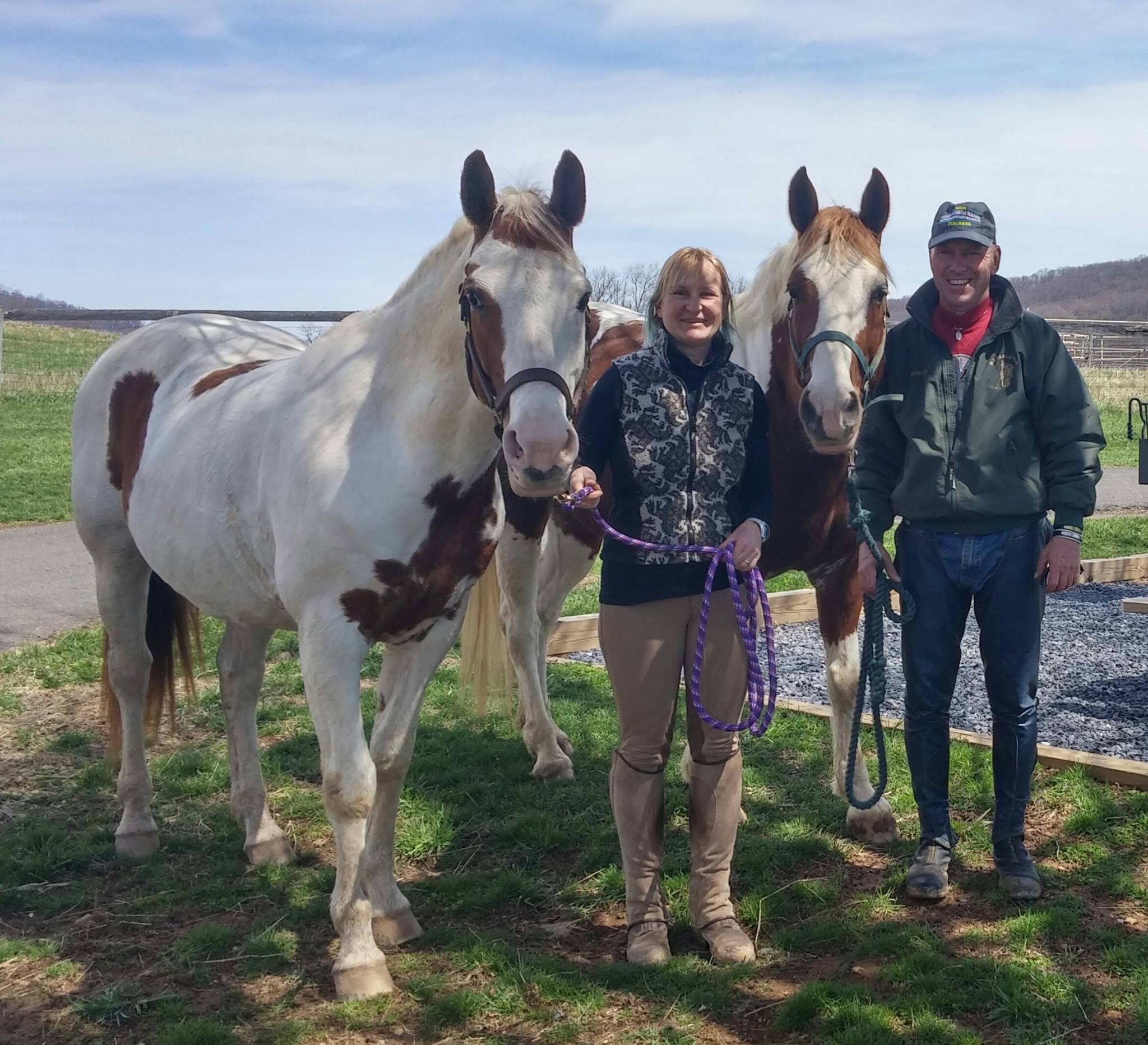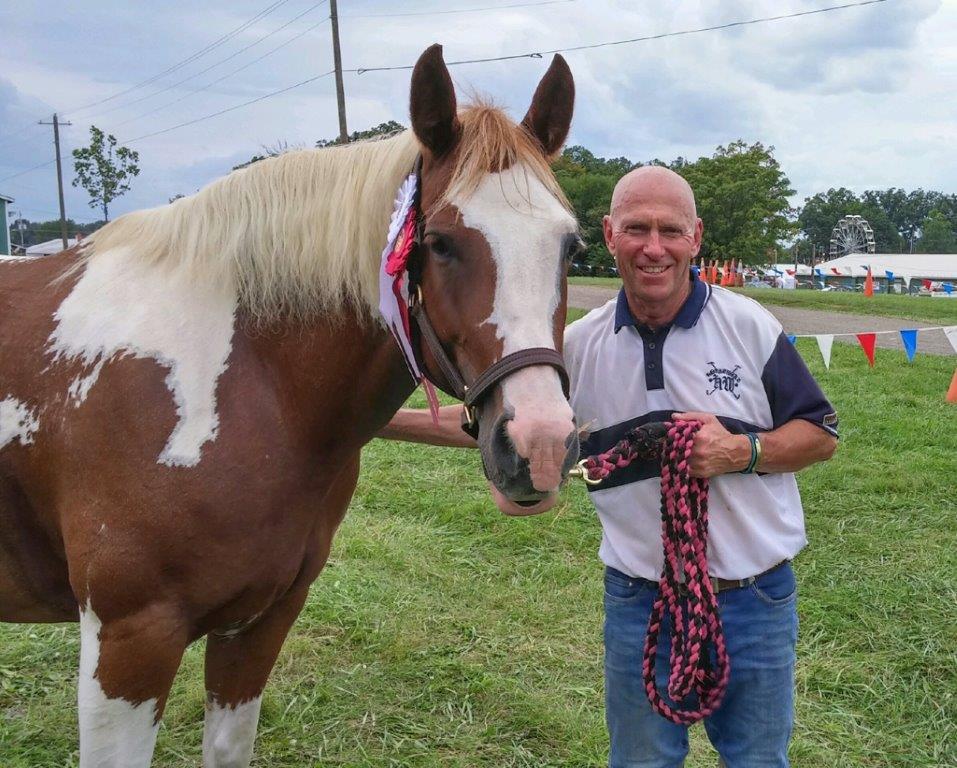 Josie, now Sugar pictured right, has settled right in with her new family!
Teddy Update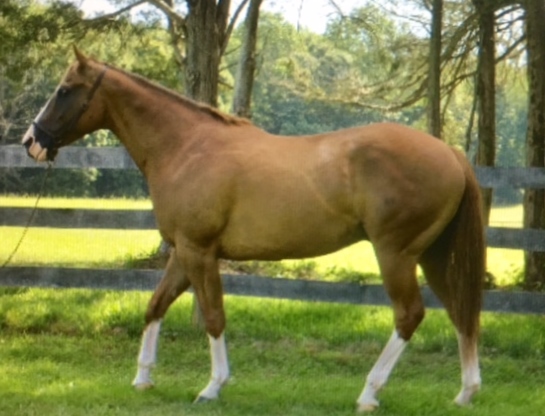 Hi Kristy & Marina, Just wanted to share a snap of Teddy this summer. His dapples have shone thru since then. He has turned out to be a most remarkable fox hunting horse. A lot of patience almost every day this summer along with trail rides have paid off in spades. He goes in a Dr Cook's bitless bridle. As soon as he got the hang of things it all fell into place. I have hunted for over 50 years & he is the nicest & quietest horse I have ever hunted. We will be working on jumping over the summer. I do not see us going first flight, but we will move up from the Hilltoppers to second field next season. It is my theory anyone can run around the country. You must first learn to be quiet in the back. Please tell his former owner I adore adore adore him & he is never going anywhere else
Thanks Laura E.
Ellie Update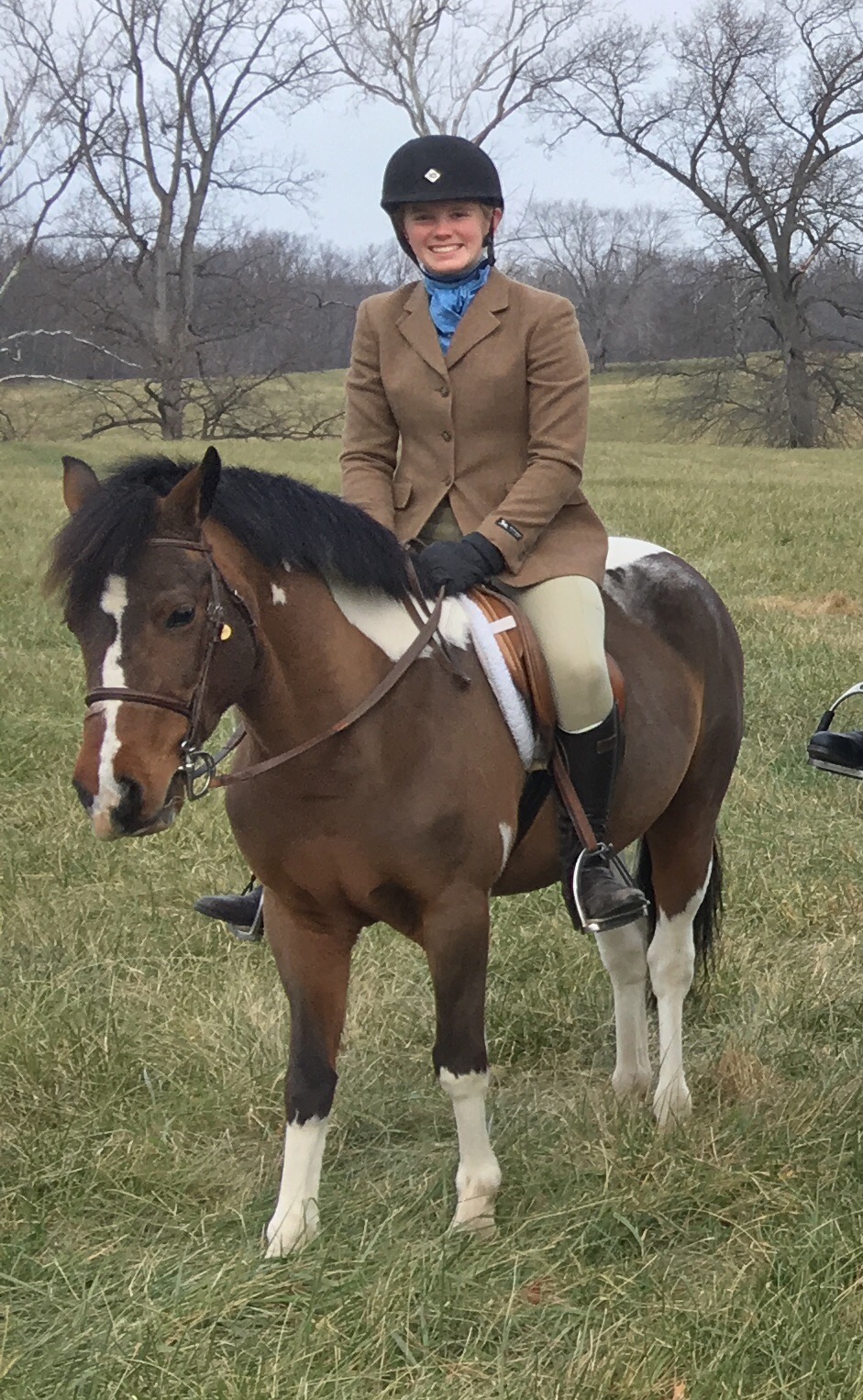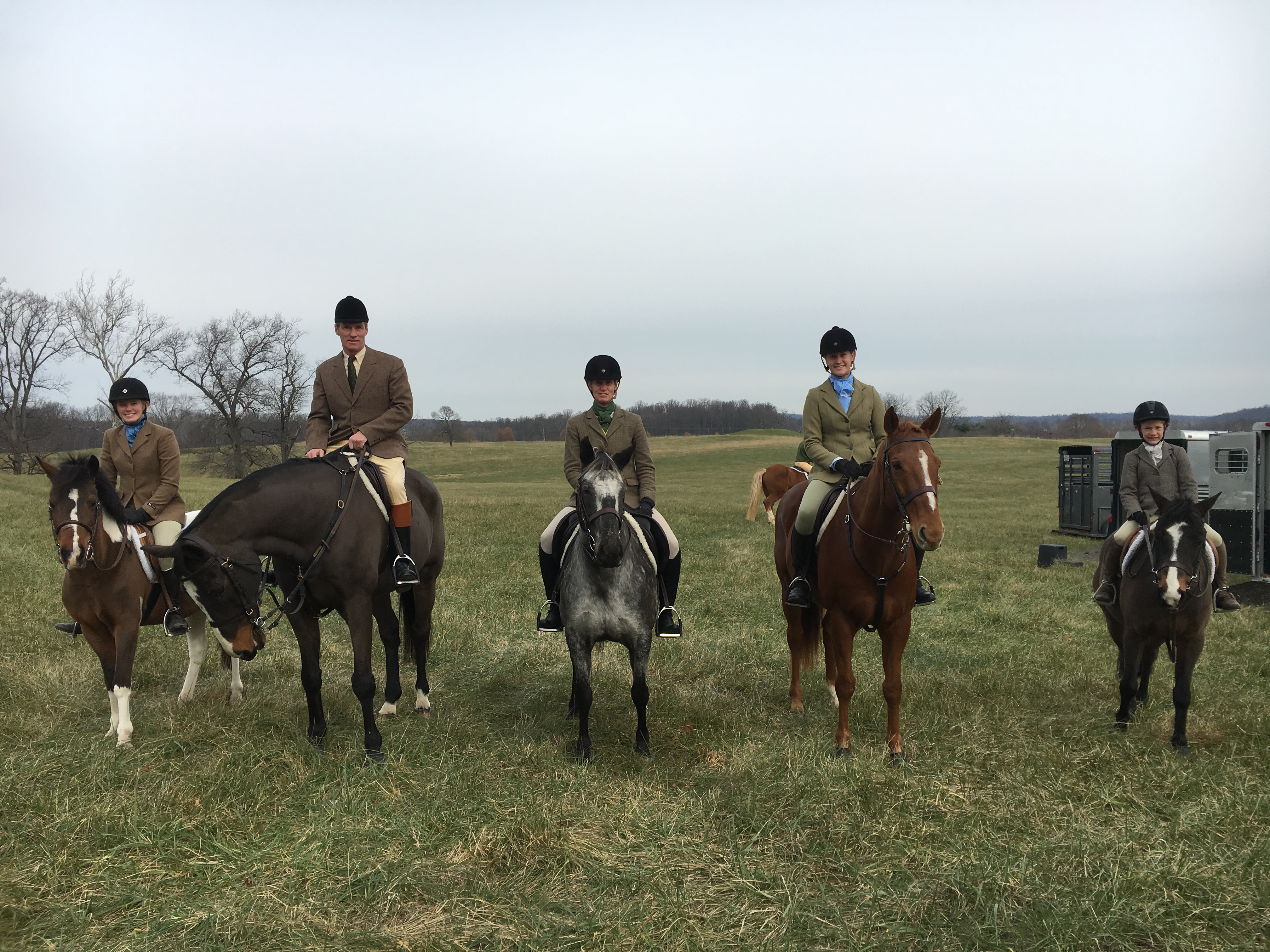 Ellie (we call her Trinket now) loves to beagle! This is my 16yr old daughter on her who is 5'6". Trinket is so good out Beagling. She stands quietly at the checks, does not mind being boxed in on a tight Trail, would never think about kicking, can be used as a bumper, does not mind the sound of the horn or beagles speaking, and she keeps up just fine even though she's little. I took her out once a couple of weeks ago first and then my daughter had lots of fun on her yesterday. She still is working on Crossing Creek ditches quietly and understanding the half halt while at the Canter without throwing her head up to the sky. But she's doing so great, is smart and a quick learner. Brynn is doing a great job with some stall training and long lining from the ground to give her some of the basics as I'm not so sure she had, as her education seems more like a 4 yr old. Brynn and I have also jumped her out cross country over 2 to 2 1/2 foot jumps and she is a rockstar. She didn't even look at the trechaner we took her over. She can be a little sensitive and jumpy with blanketing and clipping her legs but that's also improving. She is turned out with our gelding bay Pony who is also in the photo and another mare appy pony we have as a free lease also in the photo. My boys are having fun riding her in the ring as well, giving them confidence over jumps. She is super cute and we love her and are excited to continue to watch and help her blossom.
Christy D.
Picturesque Gossip Girl Update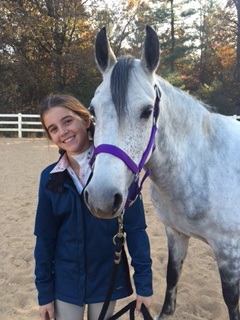 Just a quick note to say thank you for bringing this sweet girl GiGi into the world! Elle has already fallen in love with her.
Marla
Maple Update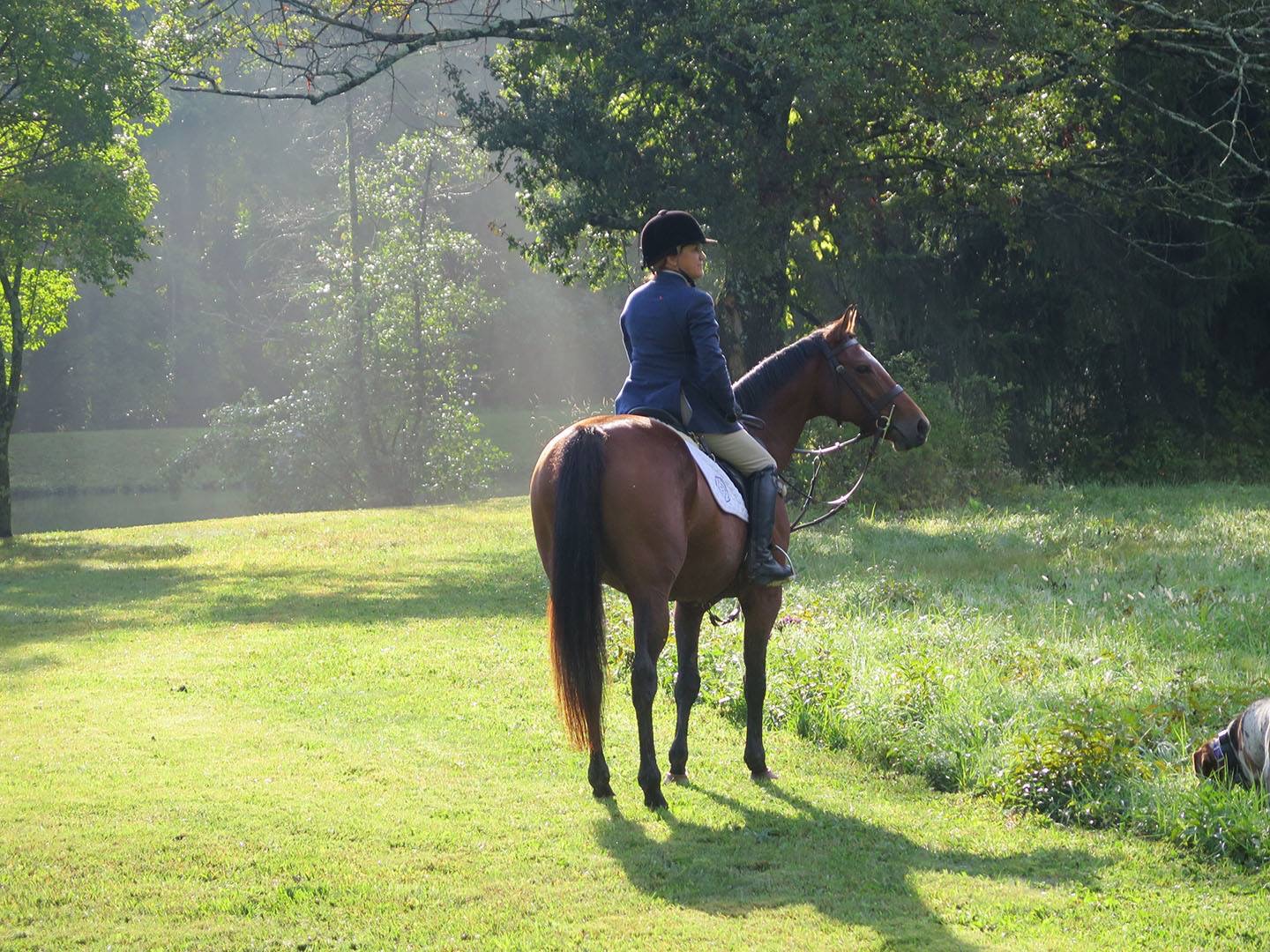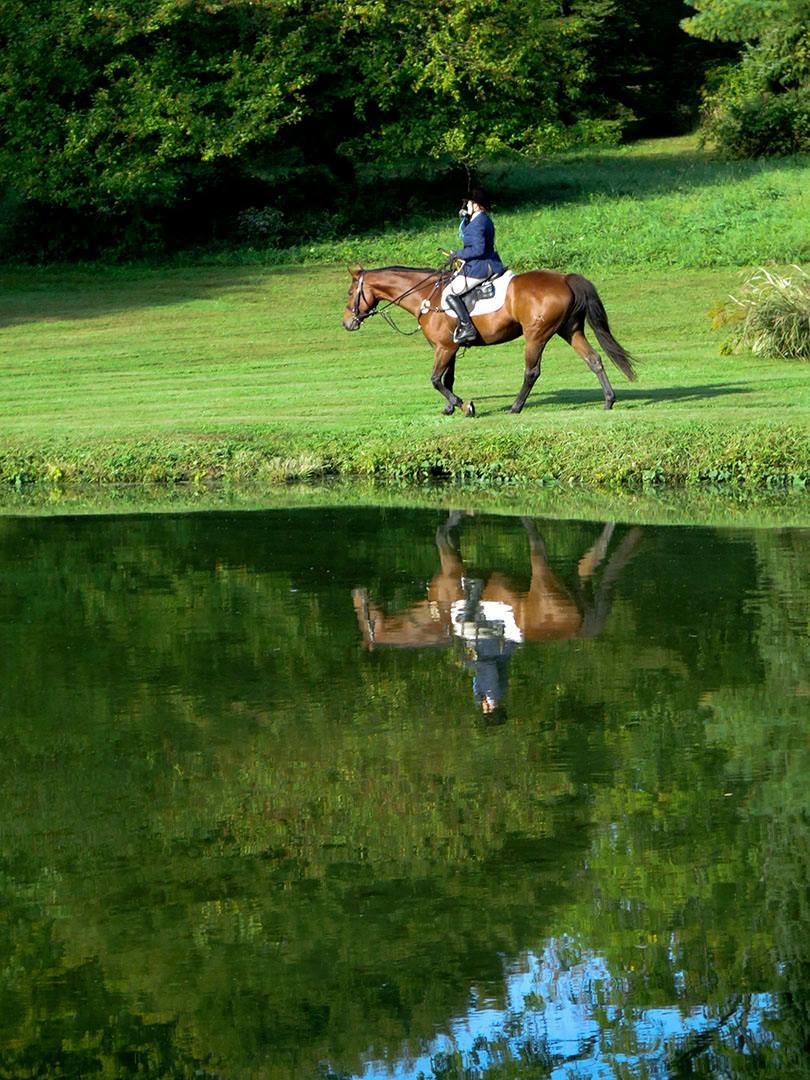 Hello Kristy,
Maple and I continue to bond. I think she is loving her new job.
Best,
Sally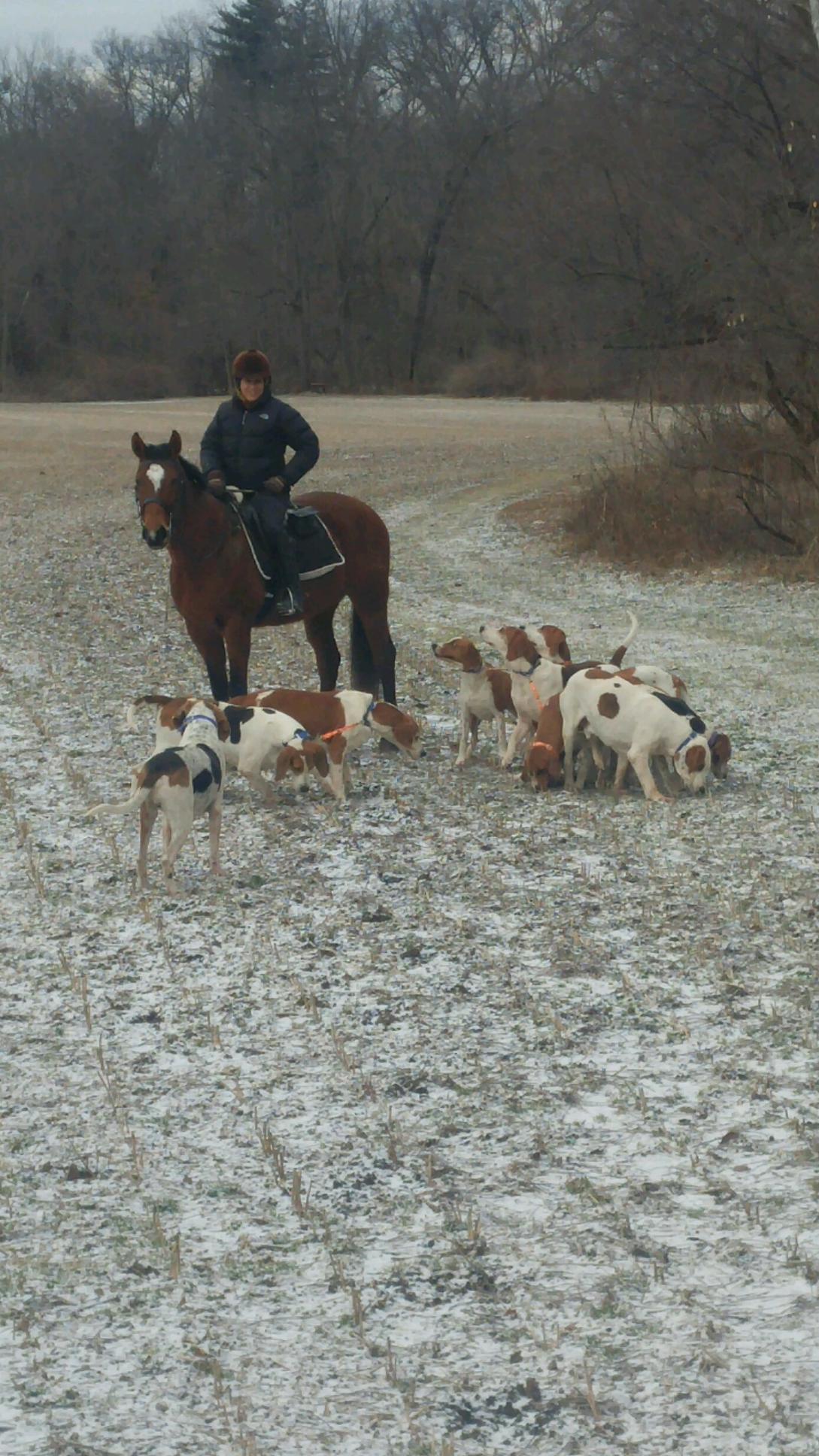 Hello Kristy,
Look who's the best huntsman horse! Miss Maple! Love her!
Sally
Little John Update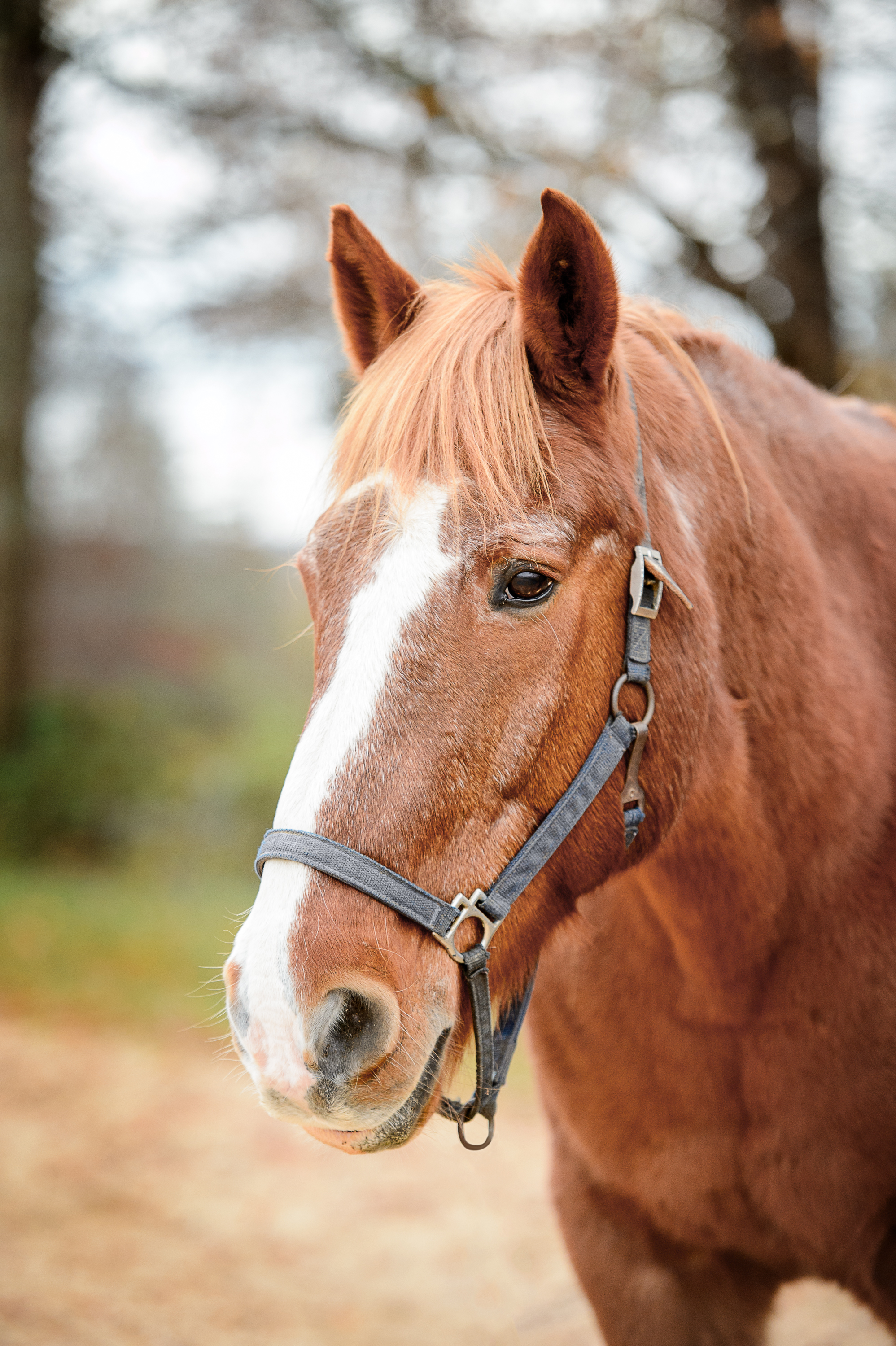 Hello Kristy,
I'm attaching a photo of Little John that I purchased from you 19 years ago. We are still together and he is doing great. Our best guess from the coggins back then (foaled in '92) is he is 25 years old now.
Brian
PF Emmy Update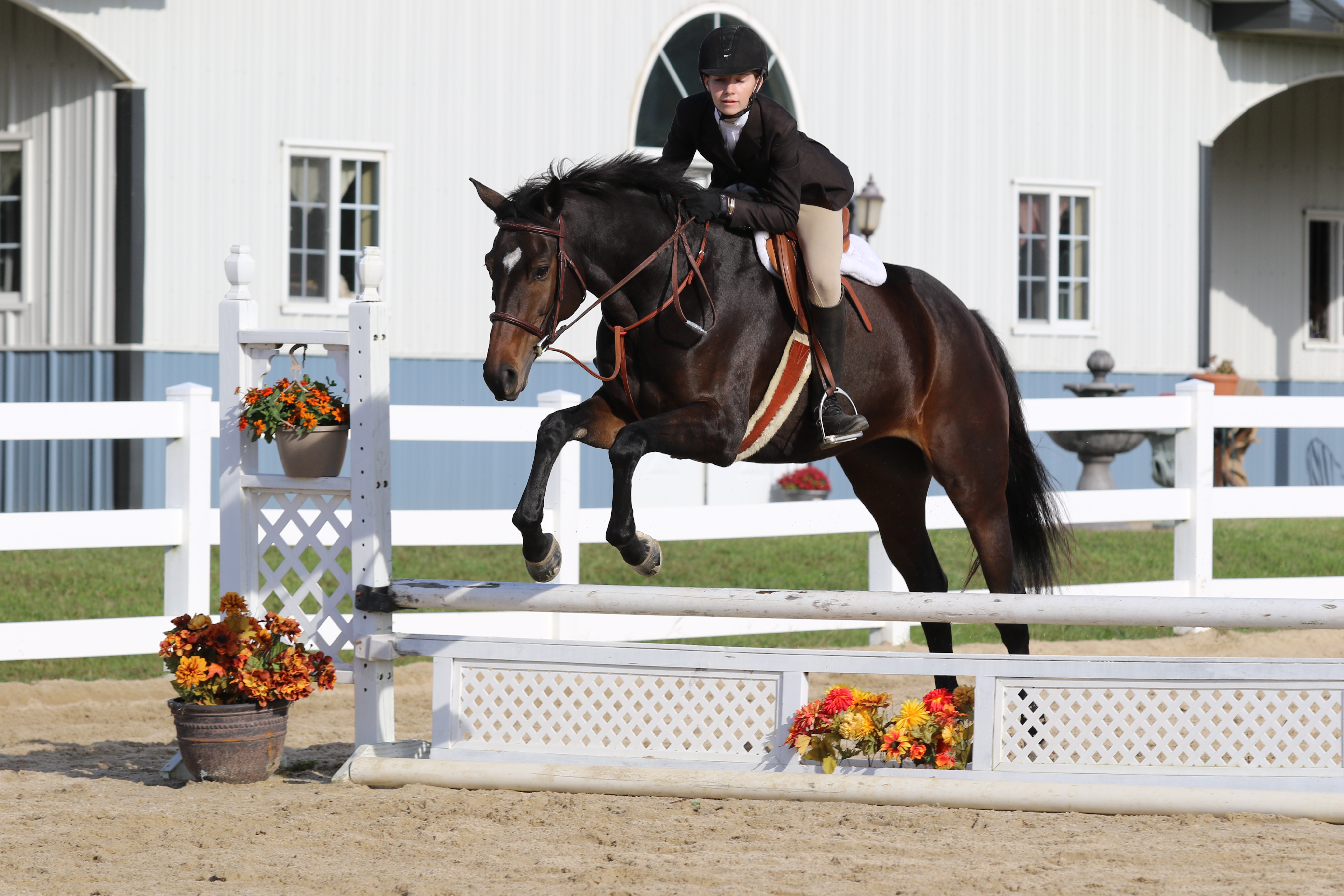 Kristy: Just wanted to share a new picture of Emmy with you, she has won the hearts of everyone at our stables. I don't think to many horse's get as much attention as Emmy gets.
Steve


Logan Update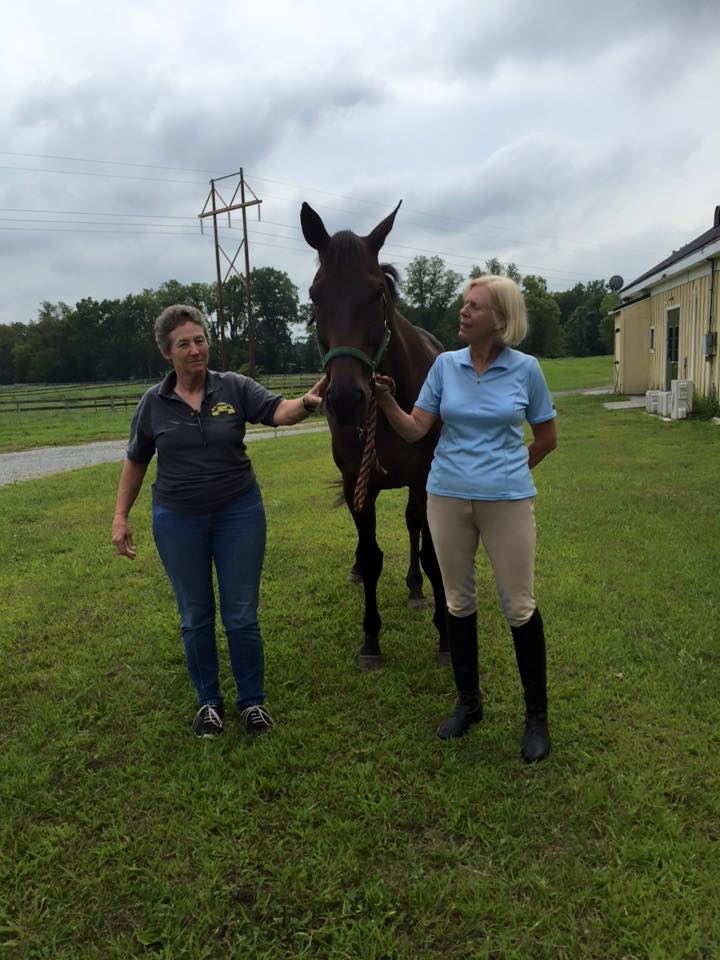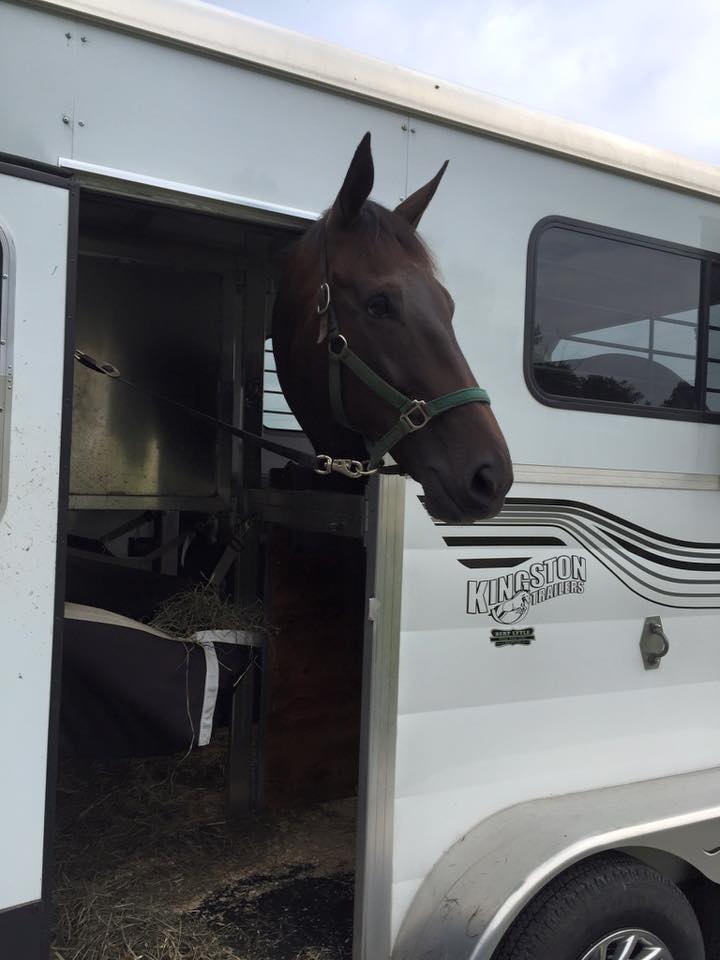 Kristy,

I wanted to let you know that I took Logan out today on a two hour trail ride with Loudoun Hunt and he did really well. It was a large group and he was very well behaved. He has also adjusted to his new home and had a great night out in the field last night. He and my other gelding have become fast friends. Please tell everyone thank you and that he is enjoying his new home. It was a pleasure working with you and everyone else involved. You have a great farm and wonderful business. Best of luck in Saratoga and a safe drive back.

Jean
Dallas Update
Kristy,

I just wanted to let you know that Dallas has settled in nicely. He has met the goats, the mini donkey and heard the chickens and been fabulous! He is such a gentlemen. He is being so kind to his two new pony friends. They spent the windy day munching on hay and exploring their field. Thank you again for such a great experience. You have wonderful horses and such a nice barn and staff. Most of all, I love that you really care for the horses. Dallas will have a wonderful home with us.

Thanks so much!

Sarah
Gracie Update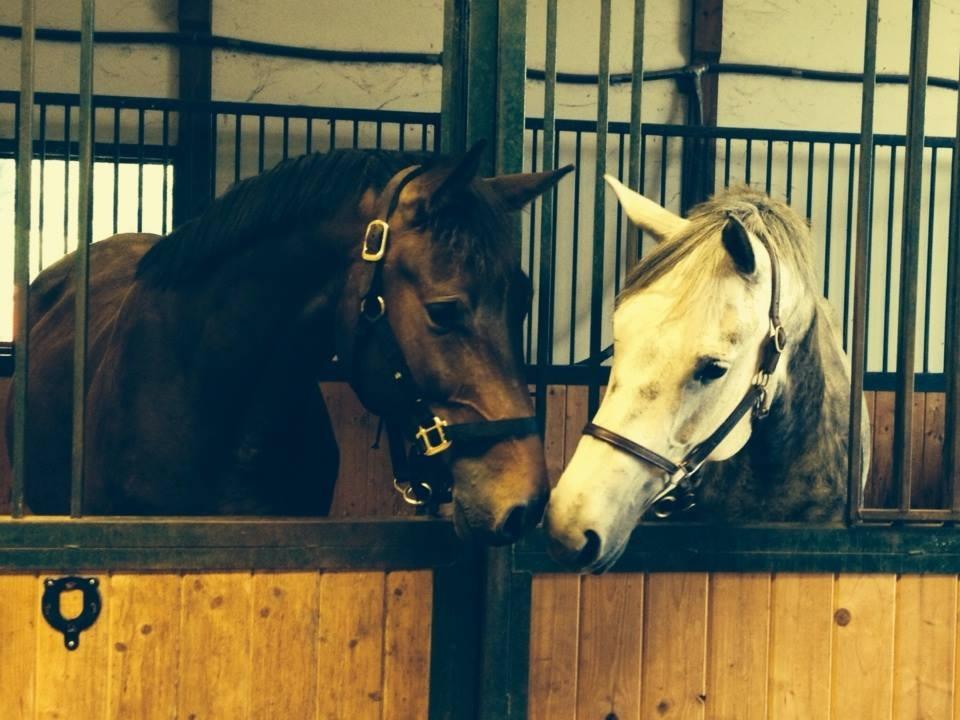 Hi Kristy,
Gracie is doing wonderfully.  We even took a ride out on the bike trail this weekend and she looked at the first few bikes then decided it was nothing to worry about.  The barn owner is already spoiling her and bringing her in during the day with her warmblood because "she likes to hang out in the stall in front of the fan".  She is a very sweet girl and I know we are going to have a great time together and is impressing everyone with her good looks, lovely personality, and good manners.
Thanks!
Megan
Silvius Update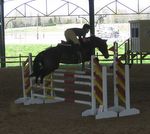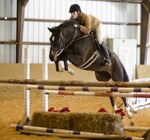 Hi Kristy,
How are you? Hope this email fines you all are doing well! I love Silvius- barn name. He has turned out to be AMAZING! His show name is Coming Attraction. He is about 16 hands one and 1/2". He turns 6 this week June 7th by Silvio out of Mia. He is absolutely striking and I get compliments on him, and I receive compliments on him all the time wherever I go.  Just love him. His temperament is wonderful.  I could of made him a Show Hunter and he would make a great Derby Horse!  Since I didn't want to send him on the road traveling to the derbies, I decided to make him a Jumper.
He would of been at Upperville this year except I just made a rider change. Miranda Scott will be riding him starting the end of this month when she gets back from Upperville and Roanoke. I am really looking forward to that combination. I want to keep him with me.
I have showed him 4 times this year in the Jumpers. He was Champion at 3 of the shows and Reserve at his
4th show at Swan Lake and Prince Georges Equestrian Center in the Jumper Division.  His last show he was doing 1.20m.  He will do 1.25m- 1.30m later this year. He is very careful and very rideable. He has been a quick study and has amazing form both front and back end.  I will send you a
DVD shortly, but want to send you a couple of photos now! Take care I will stay and touch, and the next time I come down through VA I will give you a call and stop by to see your lovely horses and visit! Once Miranda gets used to him I will let you know what our next show will be.
Kind regards,
Linda du Pont
Testimonial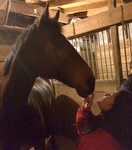 Thank you so much again for all your help in finding Chloe her Mr. Perfect!
He walked off the trailer just as calm and sweet as ever, no surprises:)
He's been fussed over and cuddled and put to bed! As you can see Chloe is loving him!!
Kat
Pandamonium Update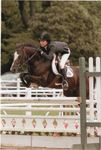 Merrill Harvey and Pandamonium Capture 2012 Zone 2 Child/Adult Jumper Championship
Huntington, NY - January 23, 2013 - In a true "David and Goliath" story, Merrill Harvey and her pony Pandamonium toppled their older and larger counterparts as the winners of the USEF Zone 2 Child/Adult Jumpers. The 15-year-old and her pony had a very successful year, claiming various championships at the most prestigious horse shows in the country. Read more here: http://www.phelpsmediagroup.com/viewarticle.php?id=7341
Testimonial
Dear Kristy,
How's Fanz doing? I hope she's really doing well. I think she really liked our barn. She saw Rudy, and they really liked each other...did they like each other at Picturesque?
I know you're probably wondering why there are colored rubber bands rubbing up against her halter. I was hoping you can keep it on because it shows me and Fanz's relationship. Fanz did great for our horse shows! She got 2 2nds, a 4th, and a 6th in a charity horse show. I also got a 3rd and 7th with her in a hunter class with her. There were 16 people in my class, and there was this girl who had her pony flicking her toes like crazy. She was an angel that day. I'm sorry if Fanz got a little nippy, two little girls fed her LOTS of treats on cross ties, so now she tries to eat her bridle. I'm so sorry about that. I also taught Fanz a trick before you give her a treat. You would say don't touch until she looks away or doesn't eat the treat, so I hope she improved on her nipping habits by doing that. You don't have to use the trick, it was just a free time kind of thing.
Please tell Fanz every once in a while that I say hi and that I wish to see her again someday!
Love,
Katie Kilcommons
Southern Star Update
Nicole Rinker purchased Southern Star from Picturesque Farm in November 2007.  She bought "T" as a four year old TB who was well started yet still very green.  The mare had such a presence about her.  She is a beautiful blood bay with great conformation and the movement to match it.  The best part of the package was something that Nicole did not know.  "T" loves to show.  She is quite the competitor and just loves being the center of attention.  Nicole and Southern Star have taken numerous champions and reserves at major recognized shows in New York and New Jersey.  Nicole Rinker and Uphill Farm are planning on relocating to northern Virginia by late fall 2009.  Nicole has 20 years of experience training horses on Long Island and in the Hudson Valley region of New York.  She focuses on young hunter prospects, junior, and adult riders.  Nicole will be accepting new students and horses in training once she has relocated.

Dear Kristy,

It was so nice to visit Picturesque Farm again.  Thanks for having us.  I'm glad things are going well for you.  "T" and I have had another successful show season full of champions and reserves.  Last week I took her to HITS Saugerties and she jumped her first 3' course in a ticketed warm up in the hunter stadium!  She marched right in and jumped the 3' like she had been doing it all her life.  She seems to like the bigger jumps.  I'm looking forward to starting her in the pre-greens next year.
Nicole Rinker
Handy Update



Kristy,
I just wanted to let you know that Handy's doing great. He's been here for a little over a month but it feels like he's always been apart of our family. The girls have taken him to their trainers for lessons and they both absolutely love him. He gets along perfectly with my 5 year old mare out in the pasture. He was everything and more that the description on Dreamhorse said. I'm glad I was patient and found the perfect horse!Thanks for your help.
Alice Mahoney
Ginger Snap Update
Hi Kristy,

Thought you would enjoy seeing Ginger Snap out with Steve today!!!  The first day he rode her out on our farm thru the woods and across creeks she was a little in shock and the herd of deer we came across scared her to death.  Sunday we took her to a 2,000 acre farm we ride on and met a group of friends and she was much braver!!!
Today she didn't put a foot wrong and they had a wonderful day out hunting!!!
By the way, it dawned on me that we have met!!!  Do you remember N. Cox that tried out Washington?  I was there at your place with her and our friend J. Zent!!!  It's a small world!!!  Please let her previous owners know she is doing well and is best friends with my wonderful mare that I have hunted for 20 years!!!   Happy New Year!!!
Debbie & Steve Jackson
I always love to hear from horses I have sold, hope you do too!!!  Ginger Snap has been in training with a good friend of mine so she will be ready for the upcoming hunting season.  We love to get horse fit in the mountains.  Steve is so busy and hates to walk, so my friend took her!!!  She is doing great, please let her past owners know she is loved!!!
Debbie J.
Cameo Update

Tell Kristy that Cameo was a perfect angel on the way home.  She got right off the trailer like a pro.  She is currently with my mares and an aged gelding and she is not taking any crap from anyone.  She even moved one of my dominate mares away from her hay pile.  We worked with her Sunday and she did very well - she is green but seems quite smart and is willing.  Was naughty once with an impressive buck with attitude :) when we started cantering her, but settled down right after.  We have high hopes for her and think she will be just what we wanted after a few weeks of consistent work.  We will keep you up on her progress.
Thanks Deborah
Pony Updates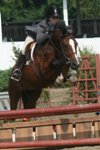 Hi Everyone,

Just wanted to let u know that all the Picturesque ponies have been great.... Morgan just gets on Little Prince and he is perfect....Never looks at anything and takes care of her...Wish I had a horse just like him...  He is definitely getting spoiled as the both of us love him to death.... Zephyr settled in right away and is just a perfect gentleman.  Pirate is a love bug...he has been a trooper from the minute he stepped off the trailer....Definitely my project but is jumping around and the changes are auto.... He almost got me off the other day with his little porpoising but he he is so funny about it that I just laugh and he stops and acts like he did nothing....Kinda like my 13yr old son..ahhhhh...Love him Four Wheelin is soooo cute...again he has been great and motors around like nothing.  Still working on changes as the kid has trouble but will come in time...
Love them all and soooo happy to have them...Will keep u posted and send pictures once I get a chance....Thanks again for everything, you guys were great and look forward to working together again.
Take care,

Jenn Alessi
Junior Update
Hi Kristy,

I hope you are doing well. I wanted to let you know that Junior is doing fabulous. We moved barns but he loves it! We will be going to our first horse trial in a couple of months, but we have been doing Sedgefield C shows 2'6" and placing well in them.
Thank you,
Dalya
Jumanji Update
Hi there, I wanted to give you all another update on Jumanji. We just got back from our first show yesterday. We also enjoyed a weekend of cross country schooling at the Lucinda Green Clinic a few weeks ago. He has been greatly improving and I love him more than anything. He always keeps things interesting with his one of a kind personality, which I love. Jumping and cross country has been great, we both absolutely love it! Dressage needs some more work, but we are both starting to get the hang of each other. It seems like his energy level has increased greatly and he is always so energetic, which is a lot of fun. We have another show coming up in two weeks that we will be doing Novice at and we are both really excited. I will keep you all updated as the weeks go on.
Hope all is well with you,
Lauren Dekker
Malcolm Update
We wanted to let you know the draft-cross, 'Malcolm' is doing very well!  He seems to be a truly, kind, tolerant, and gentle horse!  He has put up so well w/ our construction zoo/family circus; nothing seems to ruffle him!  (...I'm not sure we're going to know how to react to such an easy-going, polite equine!)  .....'New Pony #4' (as we presently refer to him) will meet the dentist next week; and, he loves our cow!  (He likes the goats, too; but really prefers the cow!)  Our chestnut TB is starting to befriend him and will go to graze w/ him for long visits now.  Our black (alpha) TB has not had to defend his position at all and just simply gets between him and the mare pony to make his point!  The pony, whom New Pony #4 spent his first day & evening with, is indifferent to him as she is w/ the others.  (All that she really cares about is a green blade of grass!)  The herd didn't even run him down because he walked into their pasture and put his head down to graze!  There has been a little bit of shananigans, but no contact in kicks/bites!  My husband says horses shouldn't be named for 3-4 months, but at the vetting, the Doctor asked Lauren if her dad's new horse has a name(?)  She replied that he had a couple of names but she hoped he would be called 'Sunday" because her dad wants to trailride on Sundays w/ his family!  The vet and his brawny horse handling assistant nurses laughed so hard, slapped him on the rear-end and said, "C'mon Sunday, let's go outside for your flexion test!"  ....That seems to be who New Pony #4 is, so far!!
....Thank you again for suggesting this horse for our family.  Hopefully, he will be happy here; we certainly like him!  Sincerely, Liz W. and family
PS  we have given your name for 2 referrals
Blue Update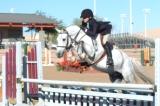 Blue's First Show! What a great line!  Are there more full siblings, or younger half siblings?  Can't wait to see the baby pix! Blue is registered with USEF, but I need to add your farm prefix.  I will definitely get that done ASAP.  He did the Childrens Pony at this show (greens didn't fill.) We'll finish this year in the Childrens or Greens, and then hopefully move up to the  rated ponies next show year.
Rachel Jansen
Testimonial
Thanks so much for getting back to me!  I'm excited to hear about her parents and siblings!  I've also got Picturesque Little Boy Blue, who I adore as well would love to hear more about him as well! Give me a call, when you get a chance.  I'm in Arizona.
Rachel
Confetti Update
I recently purchased a pony that you bred, Picturesque Confetti.  She's doing well, and we're about to start showing her in the green ponies.  I would love to have more information about her sire and dam, as I'm eventually interested in breeding her, and it will make it easier to find a suitable stallion if I know more about the breed and size of her sire and dam.  I'd appreciate any info you can provide me with.
Rachel Jansen
Desi Update
Hi,

Just wanted to update you on Desi (Sweet Design). She is absolutely perfect in every way.  We take her over for a lesson weekly with Emily and Ken at Ashland.  They love her and really want her to do the medium green  ponies at WEF this year.  Whatever we ask, she does.  Most importantly, Mackenzie finally has a pony that she can ride alone at  home.  She takes her on the trails and even rides her bareback in a  halter.  She has quickly become the love of our life. Thanks for this very special pony.  Will update you as we continue.
Take Care,
Beth
Spanky Update
Kristy,
I attached a picture of Spanky (Zachary) from the Children's Hunters 3' division, and also a recent video clip of him jumping 4'6!  I will make sure to send more pictures as the show season is starting very soon!! Thank you very much for all your help trying to find his birthday!
Katie
Hi Kristy,
It's Katie S. I bought Zachary from you almost 6 years ago, I had changed his name to Spanky and he's doing wonderful. We showed the Childrens Hunters last year and did very well. I know it's a longshot, but I was wondering if by any chance you had his birthdate? I believe you had told my dad sometime in june/july, but I was wondering if you had the exact date? I hope all is well, all of your horses look fantastic! I know where i'll be looking for my next :)!
Katie
Whiskers Update
Hi,
I recently got in a few ponies for training for BicAlla Farms in Cave Creek, Arizona.  One of them is a gray Med/Lg gelding who was called Whiskers when he was with you, as I understand, but now is called Little Boy Blue.  He is about 5 years old and a fantastic jumper, but has not shown as yet.  Could you tell me what he did when he was with you, and how long you had him.  The pony on your website looks exactly like him, and I understand may be the brother of this one.  Also, do you have any photos of this pony while he was with you? He is a very talented pony!
Thank you, Sherry Templin  www.sherrytemplinstables.com
Vinny Update
Hey Kristy!
Picturesque Wish Come True. Thanks for getting me that info, so we could keep his registries up to date.  Vinny is doing GREAT, he settled right in, and is very happy in his little routine, his first night in the stall, he was a mess pot, but now he is very tidy and loves his stall as much as he loves going out.  Sarah has only ridden a few times due to the extreme cold we have had, frozen ground, frozen kid, aren't a recipe for success, so we are having to be patient, but we should get in a few rides this weekend, it is suppose to warm up. :-)  I was just looking over my calendar, and we are going to miss the VPBA benefit show, as I will be judging down in SC that whole weekend, it was a tough choice but I had to take the judging engagement.  We look forward to pursuing the VPBA u/s this year.I think Vinny is going to really enjoy showing, he loves the pampering and being the center of attention. :-) Enjoy the pic, as soon as the weather improves and he starts to shed out, we will get some more of her riding him and hopefully with some good show news as well.  I am not really up for showing unless it is going to be above 50 for the day. :-)  I am a wuss when it comes to the cold.

Take Care and Best Wishes to everyone at PF!!
Dani
Brydelle Farm (www.brydellefarm.com)  Glenns, VA
Rhapsody Update
Kristi:

My name is Amy Brumbach.  I spoke with you last week about a horse that we bought from you in March 2007 named Rhapsody.
Rhapsody was bought from you by my boss, Toney Massinople, and the re-sold to a former student of ours.  At the time this student was taking lessons with us and we told her mother that Rhapsody needed to stay in training with us for at least 6 months.  Well, they decided to take Rhapsody out of training and things went downhill between him and this student.  Rhapsody is a fabulous horse with tons of talent, but he is a TB and needs a confident rider that IS NOT tight. Anyway, they moved Rhapsody to another facility and to make a very long story short, we now have him back. I was wondering if you could tell me how long you had Rhapsody?  I am trying to get some foal photos of him and his racing record.
I am absolutely in love with this horse.  I can't wait to start working with him again.  We are giving him a mental break for the month of December, but I will start him with dressage work in January. Again, any help would be greatly appreciated and thank you for selling us such an AWESOME horse.!
Thanks again!
Amy Brumbach
Program Director / Asst. Instructor Equestrian Arts Institute 919-563-2551 www.equestrianartsinstitute.com
Bob Update
Hi Kristy,
I thought I would drop you a line regarding Bob's first hunt season. Bob and I have been out almost every weekend with Bull Run Hunt. Even though Bob and I are riding in the third field I want him to learn the proper way to hunt and he is doing very well. We do have a few "green hunter" issues but we are working on them. Perhaps my proudest moment this hunt season was the joint meet with Keswick Hunt on the Saturday after Thanksgiving. Behind two great packs of hounds and two wonderful huntsman we flew.  We trotted under a train track, down the main street of the town of Rapdian and across the bridge over the Rapidan River. Bob did not put a hoof wrong, he was going to keep up and that was that. There comes a time in the hunt field when the rider trust her horse to take care of her.  I trusted Bob and he did not let me down - he galloped across the field and did not even try to buck.  We even took out first fence in the hunt field - a 2 foot post and rail - but every hunt horse has to have a first fence.  Bob trotted up to it and popped over without a second glance.  I am sidelined this weekend due to a bad cold but hopefully next Saturday, Bob and I will be out hunting.  Happy Holidays and Tally Ho!  Marianne Sobchak and Bob (PS I ordered photos of Bob and me at Opening Hunt but I don't have access to the equipment to e-mail for the web site - sorry.)
Willy Update
Hey there.
You beat me to the punch, but checking in with everyone at Picturesque Farm was on my list for this week.   Willy has settled in just fine.  He likes his big fields, and his new best friend is a 12.2 black welsh pony named Bobbi Sox.. I've been riding him 2-3 times a week, and he's been very good.   As you know, for me that means slow and quiet!  We've wandered around our property and the neighbor's a few times and will take him further out in the next few weeks if the weather holds up.   Hopefully we can get some pictures done over Thanksgiving.   He will be the one that looks like a large fuzzy bear.  Thanks again for all your help.
Hope you have a good Thanksgiving.

All the best,
Torie Clarke
My Windsong Update
Hi Kristy,
I just acquired My Windsong.  She has a snip half way down her face and 2 back socks.  I have ridden her twice and she is absolutely lovely.  She has done everything I have asked.  I just can't tell you how much I love her.  We had purchased her for a client we thought she might do for but I enjoy her so much that on Saturday I decided to keep her for myself.
Thanks for any help you can give,
Katie H. of Oak Tree Farm, Westminster, MD
Update

Hey Kristy,
Sweet Colby.  Just shooting my email address over to you, just in case.  Thanks again!  He was great!  He was everything you said he was, thank you.  Just email me his info when you get a moment.  Anyhow, he is such a sweet guy!
Thanks again!
Wendy S.
Mocha Update
Dear Kristy,

I just wanted to touch base and let you both MOCHA arrived safely in Virgin Gorda. He left Miami via plane late morning and arrived in Tortola, British Virgin Islands at 4 PM. He was extremely calm on both the plane and barge journey from Tortola to Virgin Gorda, British Virgin Islands (no sedation necessary). I just checked on him 11.30 PM and he seems to be settling in well to his new surroundings.  I will follow up with photos over the next couple of days.  Best regards, Lucy B.
Testimonial
Congratulations my friend,  Saw that Gus (Picturesque Bit Of Blue) has a new baby brother. Does he look like Gus and Elvis?  Still haven't gotten a great picture of the two boys, but they are really in love. Scream scream scream if one comes out without the other. Uh oh.  Gus watches the house and calls out when he sees me. It's adorable. And time to get him started, little by little.  When you have pics of the baby please send them. And  one of Elvis if it's gettable.   I still have NO idea what color this Oz=like Pony Of A Different Color will end up. Right now he's lightish greyish with redish mane and tail and very much white=ish legs and blaze. What a cutie.   Hope you're happy with your new crop. I have a crush on "Mason."
Love,
Jane, Gus and Grolsch
Happy Update
Hi Kristy,
This is Lynn, Happy's owner.  Things are going great with Happy.  She got REALLY sick this Spring and had to go to a lay up facility (Always there Horse Care) for a month but now she is fine and  Bella will be back showing her soon.  I am looking for a  healthy, quiet, inexpensive, calm horse around 15.1/15.2 to determine if I should retire Cosmo.  Of course, I went to your web site first!    Why go anywhere else.  By the way, we will be selling Happy after pony  finals in 2009, so keep that in mind and Bella will need an amazing  horse.  Anyway, are you around?  Could I try out Colby if you think he  would be a good fit next weekend?
Lynn
Testimonial
Picturesque Farm, Jayme Mathews had a wonderful time with her first horse experience at your camp.  You have a first class set-up. The girls Catlin, Krista & Katrina were wonderful and then even put up with me the doting grandmother. Jayme would love to take lessons at your farm. Do you give lessons on the weekends?  She is with her Dad who lives here every other weekend. How flexible are the times and what is the cost?
Thank you.
Jennifer Simpson
Testimonial
Hi Kristy,
Just wanted to touch base with you to let you know what a wonderful week Miranda had at camp. She learned so much with Kristen and enjoyed riding so many different ponies. She'd love to do next week's show. Please let me know what time she should arrive. Also, in regards to lessons this fall, please let us know where you think she best fits and with whom. The only day we definitely can't do is Tuesday. If we ended up doing more than one lesson a week, we'd probably prefer one weekday and either Sat or Sun, if feasible.
Have a great weekend.
Wendy
Testimonial
Kristy and Traci:
I wanted to drop a quick note to tell you how happy we were to come to your show yesterday with Johnny.  It was a perfect opportunity to give him the nudge to move up a division and feel comfortable in doing so.  You've got a great set-up and good people around you  We were really pleased.
Thanks so much!
Tanja Heather
Bob Update
Hi Kristy,

It has been a year since I purchased Bob from you so I thought I would drop you a line on our continuing life together.  Bob and I managed to hunt  (regular season and capping) seven times last season with Bull Run Hunt, Casanova Hunt and Rappahannock Hunt.  This season I have renewed my hunt single riding membership with Bull Run so Bob will start his career as a field hunter in earnest.  We did manage to attend a horse show where we placed 6th in a walk-trot pleasure division class. Bob's first horse show and I have not shown in over eight years and he handle himself with style - however he did look at the banners on the side of the ring advertising the show sponsors but it was a first for him.   We even  tackled  the area of dressage. Bob and I went to the Old Dominion Hounds Pony Club Dressage And Combine Test Show in July and rode the Intro Test B.  Bob's score of 65% was good enought to place 4th out of 14 rides.  Not bad for a green horse and an rider who has not ridden a dressage test in over eight years.  So with hunt trail rides and working with Renee Carter, Bob and I are working toward the fall and the hunt season.  With a little luck, we may even attend one of  your Wednesday night shows. Who knows?  Bob also loaned me his shoulder to cry on when I put my wonderful field hunter and partner of fifteen years, Henry, to sleep last May. So Bob knows he has big hooves to fill but in his own way he is showing that he is an individual himself.
So take care and Best Wishes - Marianne Sobchak and Bob
Testimonial

Kristy,
I am going to try and send you some new picture's of Duchess.  This may not work for me, but I will try.  Let me know if this works.
Stacey Taylor
Red Update
Kristy,
I don't know if you remember me, but I bought a horse named Red (half Percheron, half TB) from you earlier this year. (I've renamed him Jackson because we already have a Blue.) I just wanted to let you know that I'm absolutely thrilled with Jackson. He is an utter joy on both the hunt and in the ring, and he has made me a better rider. I want to thank you for bringing that guy into my life.
With best wishes and gratitude,
Jeannette
Sleepy Update
Kristy,
I know I have bragged before about Sleepy but I can' tell you what an awesome pony he turned out to be-all heart, no natural ability but the biggest heart on earth.  He will never leave here.  He is going to games rally this weekend and then pony club camp.  He has won the 30 mile ride 2x and he events, rides with the huntsman, my son can rope off him.  He would ride a bike if we asked him!  So, just find us another one like that in a big size and we will come buy it! You have a great eye for horses! Good luck with the babies.  Spring is an exhausting time when you are foaling out! Sounds like you are almost there!  We are ready to buy.  Please let us know.
Thanks Kristy.
Pam French Windemere Farm
Testimonial
Kristy,
Thanks again for all of your help, in both my buying and selling horses. I, of course, would recommend your services highly on both ends. I did get your message today and understand what you are saying. The reasons you gave ARE the reasons we sent Taz to you. Katie just had no time for him, I'm hoping he got a great home.....Kathy
Gus Update
Hi Kristy,
Just wanted to let you know that Gus arrived yesterday afternoon. He is doing great and Lusa (his new mom) absolutely loves him. He wasn't phased by his travels cross country, eating and drinking really well. Thanks for everything, it was a pleasure working with you and Traci.
Thanks again,  Mandy Schaub
Testimonials: These responses have been taken from the Chronicle Forums around Mar. 12, 2008:
lovemytbs: I am interesting in a horse this farm is bringing to the sale and was wondering if anyone here had any experiences with these people? Please PM me with your positive or negative thoughts. Thank you. Kristy seems really nice and I'd love to hear some feedback!
Janet schoolmaster: Picturesque is (or at least used to be) an acitve member here. I've never bought a horse form Kristy, but all my interactions with her in other respects have been helpful and straightforward.  Janet  chief feeder and mucker for Music, Spy, Belle, and Chief. Someone else is now feeding and mucking for Brain
Windswept Stables: I have not purchased anything from them, but I think Kristy has a good reputation in the horse world. Have never heard anything bad.  Windswept Stables -Specializing in Ponies Sales, Training, Showing and Stud Service  www.EmpiresPower.com

Keepthelegend: Kristy is wonderful and great to deal with. I would buy anything from her. I have broken a few horses and ponies for her and seen them on the website later on and she described them perfectly. The whole family are great and very knowledgable. I just bought a broodmare from her sister the other month.
Pinkme: I have done business with her, and she is great. Seems honest, wants what's best for the horse...Some of her horses she sells are great, some are lesson-y horses, but she doesn't try to misrepresent what they are.
Karizma1: We visited Picturesque Farm a little over a year ago when we were pony shopping. All the ponies looked like they were well started the right way and went around nicely for the kids. Kristy was very professional and was nice to deal with too.

Abbydp: I pm'd you. Just wanted to post as well. I dealt with Kristy a while ago. She was very straight-forward, honest, and seemed to really care about her horses and where they were going. I have my horse of a lifetime because of her! So Kristy - thank you again!!
SpingOakFarm: I have looked at horses at Picturesque...but didn't purchase. Nice horses, nice facility, and Kristy is very honest. I have also observed her and riders from her barn at shows. I wouldn't hesitate to buy a horse brought to the auction by them.
REH:  I've known Kristy for years....she does a great job and is honest and easy to deal with. I wouldn't hesitate to send people her way and i have tried horses of hers before and know several lovely horses that came from her.
Ellie Update
Kristy,
I just wanted to say thank you so much for Ellie. She is a hard working mare with a huge heart. Every time we try something new, she puts her whole heart into it. She may possibly one of the best mares I have ever ridden and I've only had her a week. She tries incredibly hard and I couldn't ask anything more of her. Thank you again, for letting my instructor, Denise, and I own your mare. She is lovely.
Nicole B.
Thanks to everyone for their kind words...Kristy