Info -
Picturesque Farm Info
Picturesque Farm 2016 Wednesday Evening Schooling Shows
Seems So Soon for Summer's End Picturesque Farm By Kristy Willwerth
Horse Show Times Sept/Oct 2016 Issue
Sadly the Picturesque Farm Summer Evening series has come to an end, but I am happy to report that the series ended as strongly as it started! Not only did we have a wonderful group of outside barns and equestrians come to ride, but once again I have to remark on the amazing energy and work ethic of our own personal staff and volunteers. Marina Frano and Amy Kaye handled the massive amount of entries in a timely, organized manner, Val Amster and Margaret Simpson are so skilled as announcers, Sami Hailey and Jessica Singley manned the gate to always keep things moving quickly. We were simply blown away by the amount of extra helpers and volunteers this year -- I could not possibly name and thank them all. Summer may be winding to an end but we are considering holding a few winter schooling shows, so keep your ears open! We look forward to seeing even more new faces next year, and hearing any new ideas about things we can add to our regular summer series to make it that much better. Thanks again to everyone who participated.
Leading Sires 2016 USEF Pony Hunters
Picturesque Formal Attire 18th leading sire of pony hunters!
https://www.usef.org/_IFrames/pointsAwards/points/leadingSiresM.aspx?year=2016&section=2500&viewCat=Ponyhunter
1/20/2014
BloodHorse.com
Blog: Behind the Blinkers with Esther Marr
OTTB Spotlight: Prime Cut
"Following is a story about Prime Cut, whose prominent half siblings are graded stakes winners Vyjack and Tepin. Prime Cut was bought by Carrie Brogden of Machmer Hall for a mere $1,000 at last year's Keeneland November mixed sale, and is now being re-trained as a hunter/jumper show horse in Virginia. I hope you enjoy his story!"
Read more on BloodHorse.com: http://cs.bloodhorse.com/blogs/beyond-the-blinkers/archive/2014/01/20/ottb-spotlight-prime-cut.aspx#ixzz3RxhDjJYO
2/29/2012
Update on Woody and his successful recovery...
http://www.fauquiernow.com/page.cfm/go/videos/videosid/39
HORSE SHOW TIMES April 2011 Vol 3 Issue 2 Page 15
Picturesque Farm - Warrenton, VA
This year marks the tenth season for Picturesque's series of Wednesday shows. This nine-show series was the first-ever VHSA Associate shows series to be held on a weekday evening, and the lights on the outdoor sand ring make it possible to finish the show no matter how many entries there are.
Picturesque owner Kristy Willwerth likes to keep the atmosphere fun and upbeat, thinking of her shows as social occasions where friends meet, enjoying snow cones and good food (taco-in-a-bag is a favorite). Yet the show mixes the fun with serious competition. One big draw for the Picturesque shows is the variety and attractiveness of the jumps, which include a stone wall, a coop, a brick wall, wishing well, panels and flowers. Top trainers and riders bring their young horses to Picturesque shows to get mileage over Picturesque's jumps. At the same time, these shows offer all the classes popular with kids and newcomers to showing.
This year, in response to requests, Picturesque has added a new Low Hunter division (jumps 2' and open to anyone) to its prizelist, and will be awarding prizes to the Champions and Reserves in each division.One class at Picturesque's final show of the series really stands out. It's a no-cost costume class, which was first held four years ago, and now has what Willwerth describes as an "insane turnout."
VPBA Pony Tales:

Picturesque Decade.  NAMED VPBA YEAR END CHAMPION IN VHSA ASSOCIATES' PROGRAM.
The 2010 winner of the Bobbie Kohler Memorial Trophy, donated by Fox Lair Farm and given to the highest scoring registered Virginia bred pony in the year end standings of the VHSA Associates' program was Pictuesque Decade, a six year old large pony by Greystone Ian McVai x Millenium Eclipse by Silver Snaffles Excaliber. Bred and owned by Kristy Willwerth's Picturesque Farm of Warrenton, the bay gelding was shown in the Green Pony division of the VHSA's Associate program. Ridden by April Sautter of Summerduck, he earned 264.5 points.
Picturesque Decade was also the Division Winner in the Large Green Pony (out of 15 exhibitors) at the Virginia Horse show associate Championships, Lexington, VA., in November 2010.
Fairfax Times,   January 31, 2006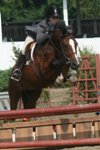 Picturesque Little Prince
By successfully positioning Picturesque Farm as a key player in the local hunter pony market, owner Kristy Willwerth combines years of horse-breeding and showing experience with a heavy dose of business sense.
"Virginia Pony Breeders Association-registered ponies have done so well in the U.S. Equestrian Foundation national standings," said Willwerth, "and made the hunter pony market so strong in this area, that it's only logical that that's the way to go...Read the full article at:
http://www.fairfaxtimes.com/cms/archivestory.php?id=207000
Chronicle of the Horse July 31, 2009

Picturesque Bow Tie Dresses Up Nicely
Patti Foster shares Short's enthusiasm for the North American Pony Futurity. "I'm really a fan of the futurity. There's no place..." Read the full article at:
http://chronofhorse.com/article/Glenhaven-audrey-floats-top-north-american-pony-futurity
Performance Horse Registry November 25, 2009
North American Pony Futurity Awards $6,000 in Prize Money at Debut Competition
Author: By Happy Mouth Media

Picturesque Bow Tie
The Old Dominion Horse Show in Manakin Sabot, VA, was the site for the inaugural competition for ponies nominated to the North American Pony Futurity (NAPF) Registry incentive program. A parade of lovely young ponies competed in hand, divided by ages and genders. USEF "R" Hunter Breeding judges Joe Dotoli (of Vermont) and Beth Neilsen (of Colorado) evaluated the youngsters at the walk and trot prior to standing for conformation. Amateur and pro handlers were equally represented with Tim Foster of Twin Cedars Farm winning the Glenhaven Farm Junior/Amateur Handler Trophy for the day. Twin Cedars had a big day taking home the Joan Barland Memorial Best Young Pony Award, as well as the Three-Year-Old Performance Championship (ridden by Brooke Kemper) with their lovely small gray gelding Picturesque Bow Tie (Picturesque Formal Attire)July 31, 2009...Read the full article at: http://www.phr.com/pageDisplay.aspx?pid=newsdisplay&newsId=5123
R.W. MUTCH EDUCATIONAL FOUNDATION SCHOLARSHIP RIDER BIOGRAPHIES 2008 WORKING STUDENT : KAT BARKEMA.